Brechfa forest
(18,000 acres) is excellent for exploring on foot, horseback or on a mountain bike.   Brechfa Forest is designated as a dog friendly tourist attraction. There are a wide range of both footpaths and bridleways.  All users can explore the forest tracks and roads. There are three mountain bike trails.
The forestry commission have published circular walks from each of the main car parks.
There is a leaflet available for each of the mountain bike routes. …..
The community have produced a website to help people develop their own routes through the forest.     Am option popular with groups who want to combine a long walk with visiting a pub in one of the villages that encircles the forest. Link  If you don't want to walk back why not arrange for the local minibus company to collect you from the pub?
Brechfa Forest Garden.
The only forestry commission created forest garden in Wales is in Brechfa Forest. –  A forest garden is a site where trials of a range of trees were planted in plots in the 1950's.   Exploring the range of species of trees suitable for growing in forestry conditions as part of an early research project for responding to climate change. – There are some magnificent specimens particularly the giant redwoods. Download a pdf of the forestry commission leaflet on the site.
Llanllwni Mountain
Between the Western and Eastern sides of Brechfa Forest is a large area of open common land grazed by sheep,  cattle and ponies.   The area is criss-crossed by tracks of ancient turf.    The area is open access for walkers and horse riders to roam.    Cyclists can use the bridleways which cross the mountain.  Dogs must be on a lead at all times to protect the grazing animals.   –   There are some fantastic views from the top of the mountain.  Features of the mountain include  ancient burial mounds and a modern peace cairn built by the community.    photo of cairn.
Activities for Children
The woodland trust has kindly given permission for the community to provide links to free information sheets of suggestions for free outdoor activities for children.
Special environments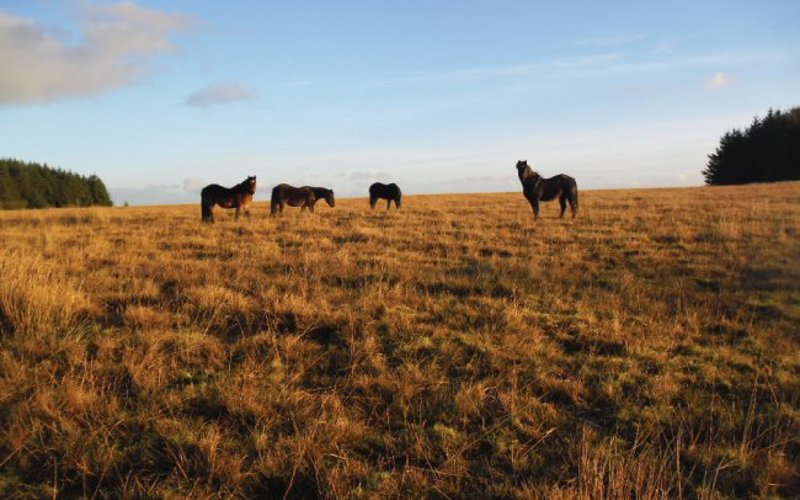 There are a number of linked sites of an ancient  bogs on common land.   Carmarthenshire County Council and Swansea University are working together to study the sites and have just published a cycling tour visiting each site,  the route of which passes by the entrance to Gilfach Wen.
Road cycling and scenic road trips.
Through the forest,  across the mountain and in the wider area surrounding the forest and mountain there is a network of minor roads with low levels of traffic and wonderful scenery which opens up all sorts of opportunities for cyclists,  and people who want to enjoy a scenic road trip.  –  But plan your route in advance and take a map with you rather than relying on phone based Sat Navs,   these little roads run through steep valleys and mobile phone signal is intermittent.