Beach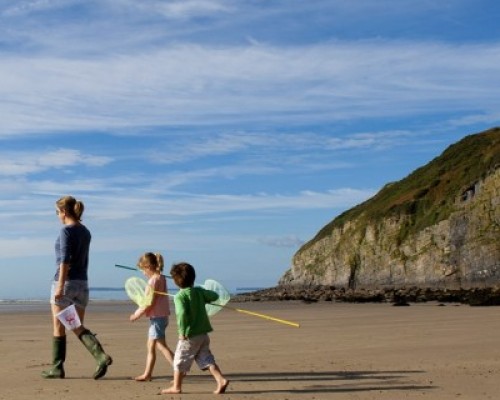 The obvious first option is a trip down to the seaside,   there are a selection of beaches within a short drive.  Pembrey is a 8 mile long beach next to a country park with dry ski slope,  miniature railway,  adventure playground, golf,  laser tag and visitor centre.  Some activities are charged for but with 8 miles of beach to play on and enjoy a picnic you take with you its definitely a low cost option for a day out.      –  Carmarthenshire County Council have recently introduced charges for all the car parks in the park.
While at Llansteffan the main beach has just a couple of huts providing a fish and chips and ice creams,  a shop selling items for playing on the beach and a public toilet,  with the option of walking round the headland to Scott's bay,   an idyllic cove with plenty of room and privacy for the more adventurous.
National Park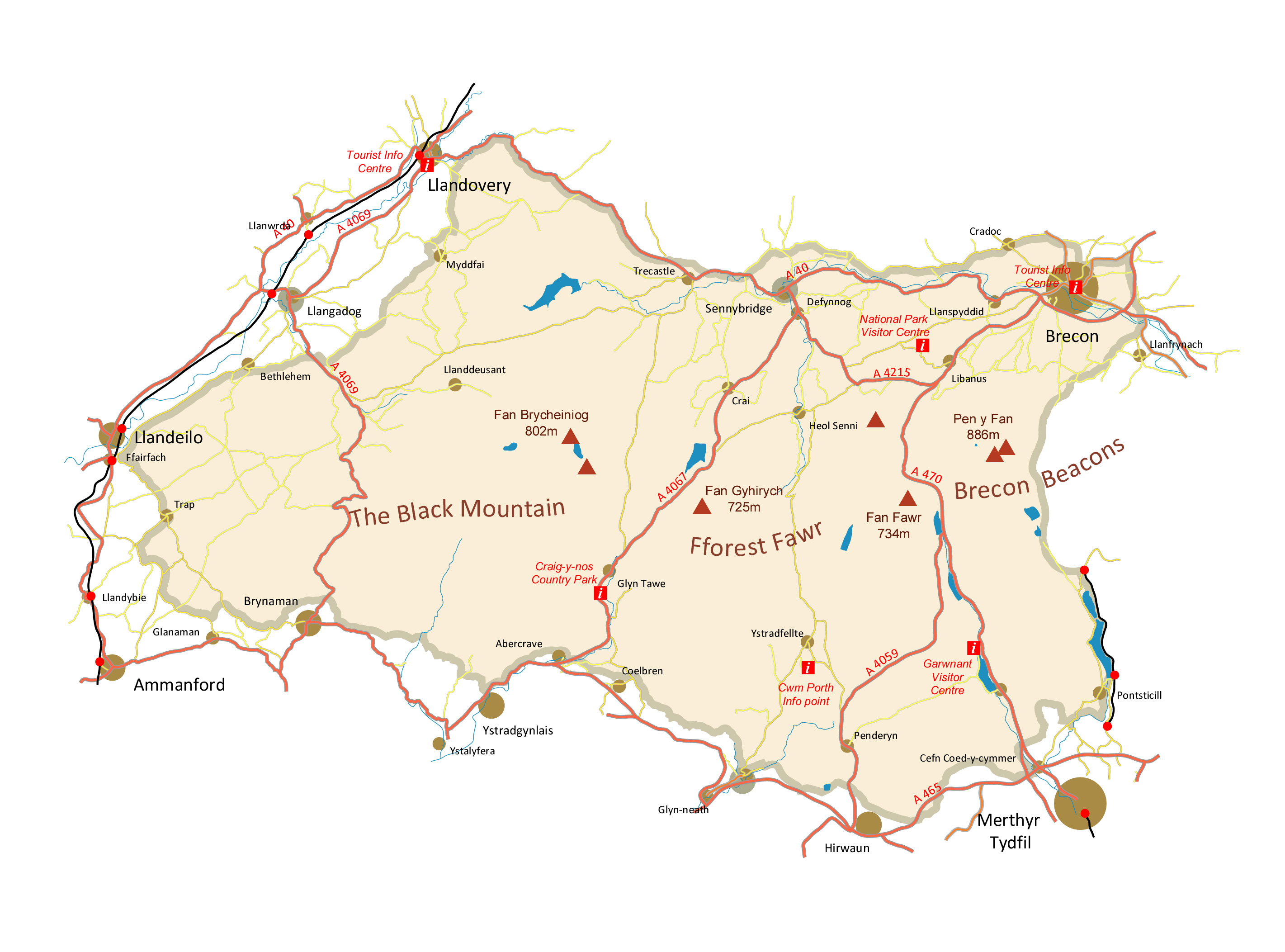 The Brecon Beacon National Park boundary is just 8 miles away.   This National Park created in 1957 to protect the landscape covers 519 square miles (1,340 km2).   The western side achieved European and global status as Fforest Fawr Geopark.
Brechfa forms the south western end of the Cambrian Mountain Range.  The Cambrian Mountains are the National Park that never was,   there has been a long standing campaign for National Park status for this backbone of Wales.  The Cambrian Mountain  Initiative is currently developing a range of leaflets covering this area,  once available they will be made available as PDF's to download from this site.
Wildlife Reserves
Wildlife Trust Reserves.  –  There are a total of 10 reserves managed by the Wildlife Trust in Carmarthenshire,   Two locally which are unusual are Talley Lakes which could be combined with a visit to the nearby ruins of Talley Abbey.   Dinefwr Castle Woods Reserve is the only Wildlife Trust reserve with a castle.
Castles
We are in Wales in the front line of the 200 war between the Normans and Welsh for the control of country.  While the Welsh were experts at hiding in the forests and attacking passing Norman conveys of goods,  the Normans brought the skill of castle building to the area.  Some of the abandoned ruins are free to visit.  –  Carmarthenshire Castle.  (which is also the base of the tourist information centre in the old town jail) in the centre of Carmarthen town.   There is little to see other than a few walls,   but it forms part of a walk around the historic town.
Dryslwyn Castle is situated in a majestic hilltop location above the Tywi valley
Wet weather
Carmarthen museum has a wide mixture of displays visit their facebook page for more information on opening hours and events